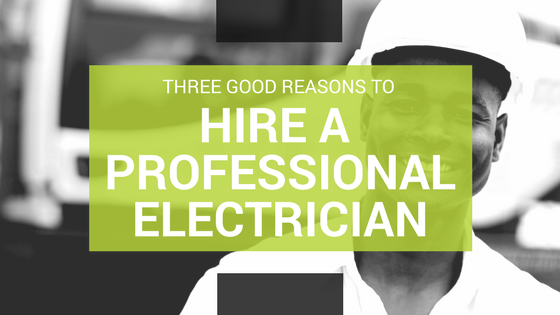 Many of us nowadays love to save money by taking on 'DIY' (Do It Yourself) projects in our home. It gives us a great sense of pride to finish such a project and save the money, but is it always the best idea to DIY when it comes to electrical work?
When it comes to electricity, leave it to the professionals. Electrical hazards can cause burns, shocks, electrocution, fires, and can be fatal. The fact that electricity is so dangerous that it can injure or kill is a big enough reason to show why an electrician should complete electrical tasks; however, other reasons exist to show why a professional electrician should always be used:
#1: Professional electricians keep up-to-date with the laws and conditions.
These laws are regularly changed and altered and often impose limits on the types of jobs that unqualified electricians or homeowners are permitted to carry out. It is also the case that particular types of installation work require an electrician to carry them out and particular types of installation work that have to be certified when they are completed. Using a professional electrician also provides the advantage that particular types of work that need to be approved by a local authority can quickly and comprehensively be assessed by the electrician who will then appropriately notify the relevant body and certify the work once it has been done.
#2: Although those who are into 'DIY' home maintenance may believe that they know all of the details needed to effectively and safely carry out an electrical job, professional electricians have a better understanding.
This knowledge includes:
Industry changes (example: required types of circuit breakers)
Current regulations
Whether or not you will need approval from local authorities
Often relationships with local authorities
Precise locations for each material needed
Techniques for fitting
Knowledge on exactly what to use regarding size, thickness, length, etc.
Techniques to ensure safety and minimal disruption during and after the project
#3: Certified electricians have the knowledge and expertise to provide electrical services to a high standard and safely
Like mentioned earlier, electricity is dangerous and should be taken with the extreme caution. Professional electricians know how to work safely and will never assume that switching off the power supply is enough. In some cases it is not; it needs to be properly tested before being worked on. Electricians have knowledge of how to completely and securely create a safe situation for working with electricity. Furthermore, electricians have all the right tools and electrical components to go along with the knowledge to keep the working environment safe.
For something as important as the electrical work and wiring of your home or business, don't leave this to an amateur or anyone unqualified. All electrical services should be carried out by a qualified and skilled electrician in order to best guarantee safety and efficiency.
Categories: