Circuit Breakers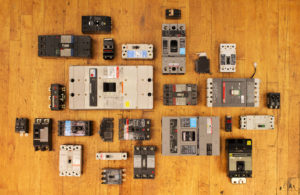 Nationwide Electric carries every type and vintage of electrical circuit breakers, circuit breaker enclosures, and panelboards.
You'll find the latest brands and newest models as well as the obsolete and hard to find – all at extremely competitive prices. Every breaker is inspected by our technicians to guarantee every customer gets the best breaker possible, and all of our products are backed with a minimum one-year warranty.
We Stock the Highest Quality Circuit Breaker Brands:

Square D
General Electric
Siemens
ITE
Eaton
Cutler Hammer
Westinghouse
Federal Pacific
Zinsco
ABB
Heinemann
Wadsworth

 
 
 
 
 
 
 
We source our brand new electrical circuit breakers at extremely competitive prices and we pass those savings on to you! Need a reconditioned breaker? Our highly skilled technicians inspect each breaker with care so that you get the best quality used breaker possible. Shop our inventory quickly and easily through our online circuit breaker store!
Ordering an accessory with your breaker?
Just add a note to your order and one of our experienced technicians will install it to your specifications. Just be specific as to how you would like it to be installed and Nationwide Electric will get it done! One less thing for you to worry about. Start by shopping through our selection of circuit breaker accessories.
Don't see what you need? We are constantly updating our online inventory, but have many more products at our fingertips. To get all of your electrical supply needs filled or to talk with our seasoned technicians, call 804-232-3005  today!
Showing 1–12 of 28134 results